Full Circle
Jul 15, 2021 | 3 min read | Dave Patty
Dear Friends,
Some invitations are particularly meaningful.
Last month, Landen was asked to preach a Sunday morning sermon at the Second Baptist church in Cheb, a town west of Prague in the Czech Republic. This location has special significance for Landen, because, while he was a youth pastor in California, he brought his youth group to lead English camps with Josiah Venture in this very town.
The Czech Republic is one of the most atheistic countries in the world, and the region of Cheb is particularly secular. Landen was surprised by the fact that so many unbelievers would attend this camp to build relationships and improve their English and was caught off guard by how honest they were about their lack of faith.
Mornings were spent in small groups, engaging in conversation and discussion in English. Afternoons were filled with sports and hikes, and the evenings were reserved for an unfolding presentation of the gospel. At the end of the week, when the camp program was moved from the mountains to their local city, Landen found himself in a discussion with Martin, a 16-year-old boy who was particularly open about his opposition to God.
"I'm an atheist," he said proudly. "This world came into being through many years of evolution. There is no God and faith is irrational."
Though it looked like Martin was far from God, the young people from the church surrounded him with relationships and kept inviting him back to their youth group. After almost a year of their persistent witness, Martin put his faith in Christ, and brought his brother to camp the next summer. Soon, he too became a follower of Jesus.
Several years later, Landen responded to God's call and became a full-time JV missionary in the Czech Republic. Though he has spoken in many locations, this invitation to preach last month in Cheb was full of special meaning for him. It came directly from the young pastor of the church, whose name is Martin.
From atheist to believer, from lost teenager to a full-time pastor. The full circle of disciple making is a joyous testimony to the transforming power of Christ.
Even with the pandemic restrictions, the Josiah Venture team will lead 77 evangelistic events or outreaches this summer in 16 Central and Eastern European countries. We are trusting God to do what only he can do and draw many lost young people to himself.
Thanks for making this possible through your gifts and prayers.
President, Josiah Venture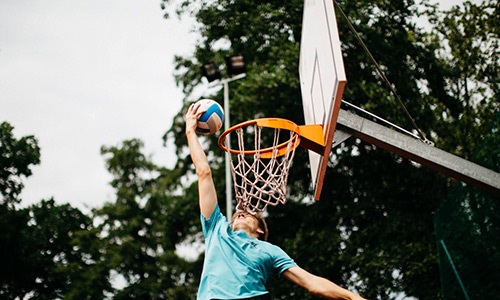 Dave Patty | 3 min read | August 2018
The Word in Flesh
Dear Friends, What happens when the Word becomes flesh and lives among us? Ethan served as JV summer staff in Estonia this year for the second... Read more