Poland
Camps - Poland
Nothing is better than to see how students hear and accept the gospel and then observe how the local youth group leads them to grow in a relationship with Jesus which then do the same with their friends and close people. Using conversational English as the connection point, English Camps help unbelievers connect to the local church. Along with facilitating these camps, the Camps team also trains and develops young Polish leaders to serve as interns in these camps and in their local churches back home. Your donation will help to support our Polish interns, send Polish students to camp, and support national leaders.
Camp & Conference Center h2o
This facility is our base for evangelism and leadership training in a country of 38 million people that has less than 1% evangelical believers. Camps are the most fruitful form of outreach in Poland, and focused training can equip a new generation of leaders for the church.
Project29:11 – Emotional Healing Conferences
Many young people in Poland have experienced difficulties that have broken them beyond repair unless God rescues them. Project29:11 is dedicated to "healing the brokenness of this generation".
Fusion Music Outreach - Poland
We want to reach youth through rock/gospel choirs based in local churches. This ministry was pioneered in the Czech Republic and will be launched in Poland at the beginning of 2015.
Fala General Fund
In Poland, Josiah Venture's national organization is called "Fala", which means "wave" in Polish. With over 30 staff members and a camp facility called H2O, Fala inspires and equips hundreds of young Polish leaders each year to make disciples who make disciples.

Giving to the Fala General Fund allows us to quickly direct funds to those programs within Fala that are most needed.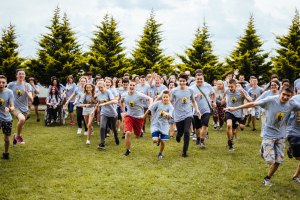 2021 Poland Summer Camp
This summer we will be offering a Master Camp at our H2O camp facility. Our vision is to have a hands-on experiential training camp for various churches around the country who've never done a JV evangelistic camp. As you can imagine, the cost of camps like these can often be a barrier for young people without work or adults who have limited vacation time with pay. We are looking to support 160 young people at a cost of $50 per person. Can you help us overcome these financial obstacles by donating to our camp scholarship fund?
Expanding the H20 Impact during COVID
God provided our beautiful meeting tent in 2019. Since then we haven't been able to buy plastic chairs to provide seats for campers, students, and families. Instead, we have been transporting our conference chairs back and forth between conference rooms and tents.
This summer we are expecting to host 13 camps for more than 1,000 people. With COVID-19 restrictions our tents are being used more often for main programs and activities, yet moving chairs back and forth damages them and takes a couple of hours to do. We hope to create a comfortable space for our guests this summer. We will need $10,500 for 400 chairs, 50 tables, and a transport cart.